IVF HIRASHIGETAYASO Z278 x Bay Sanj Kumiko 147
Located in: United States of America
Can be shipped to: Domestic (U.S.) Shipment Only
#1 grade IVF HIRASHIGETAYASO Z278 embryos from the highest marbling female out of the great Anio 6 cow family and one of the highest type females in the breed. Kumiko 147 won her class at the 2015 World Beef Expo and comes from a deep pedigree of both bulls and cows with great frame, milk production, and mothering ability.
---
Donor info
Details
Fullblood Black Wagyu
Highest marbling female from the GREAT Anio 6 cow family
One of the highest TYPE females in the breed!
Has produced highly scored bulls used to increase frame and milking ability
2015 World Beef Expo Class Winner
---
Pedigree
WORLD K'S SANJIROU
YCB ITO KAMEYO 5635
TF ITOMICHI 1/2
YCB ALZAKIKU KYOKO 3601-10
YCB KIKUHANA 467
TF AIZAKURA 6/1
Next Dams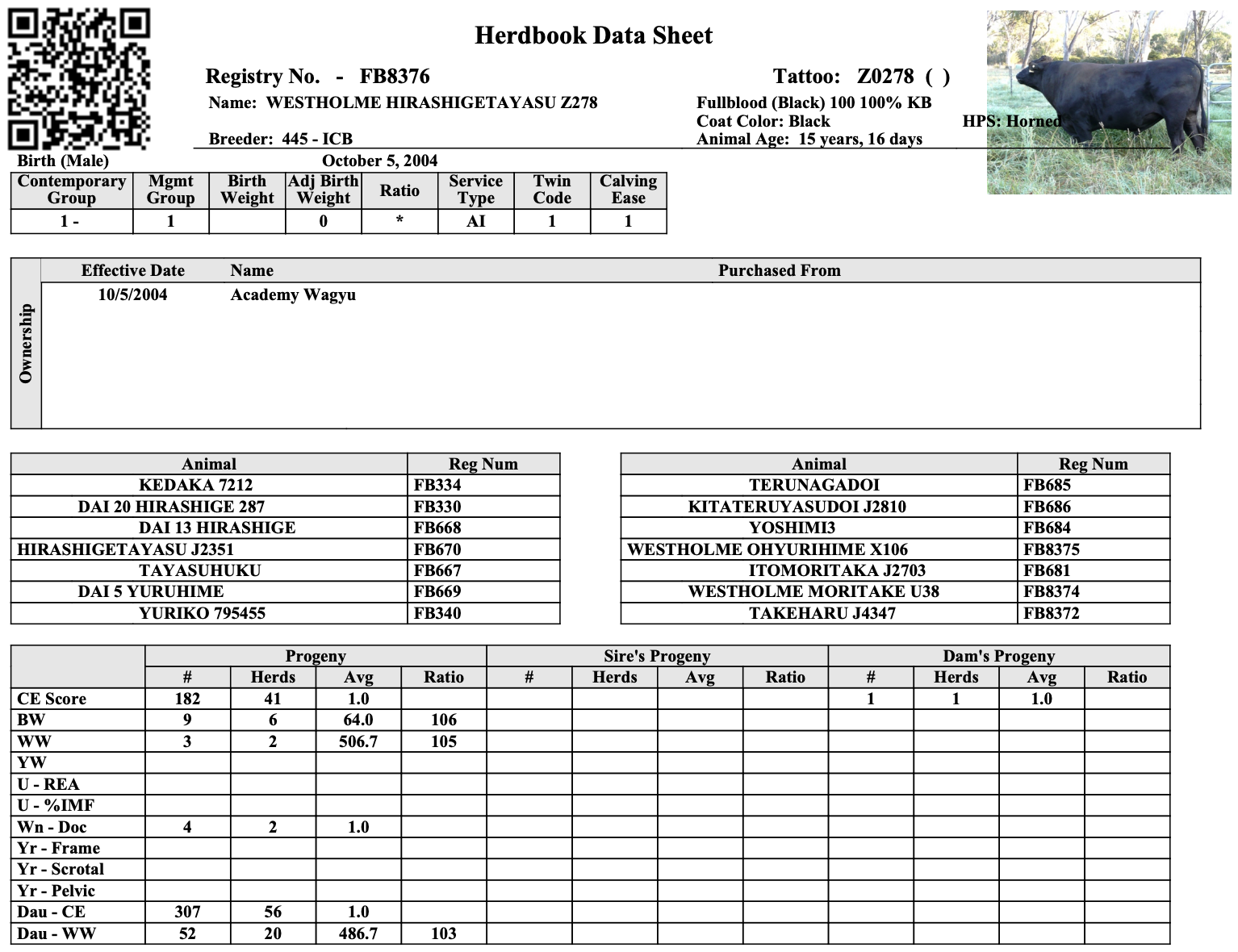 SIRE DATASHEET
SCD: AA | Terminal Index: $281 | GH Exon 5 Gene Type: BB
Z728 is the product of three elite Westholme bulls. His grand sire is Dai 20 Hirashige is one of the top 15 bulls in Japan. His dam is sired by ETJ003. ETJ003 is out of a daughter of the high milk and meat trait bull, ETJ002.

Z728 has grown into a big bull that is balanced and correct. He weighs over 2,200lbs, and has a frame score of 8. He is one of the top carcass weight bulls in the 2014 Research EBV's, and a trait leader in growth, milk, scrotal circumference, and EMA.

Producers in Australia, North America, and Mexico have used this bull with great success. He is currently being used as a sire of sons at Designer, and other leading programs, as well as having a high contract interest for making embryos for export.

He is the only bull with semen for sale in the USA with the unique GH Exon 5 Gene Type BB. With this trait, his offspring have the ability to increase carcass yields more so than any other bull. He was the sire of the winning carcass in the 2014 Branded Beef Competition, Grass Fed Class.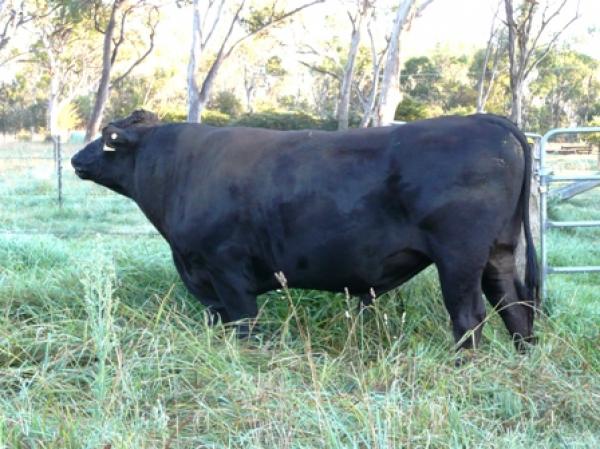 SIRE SNAPSHOT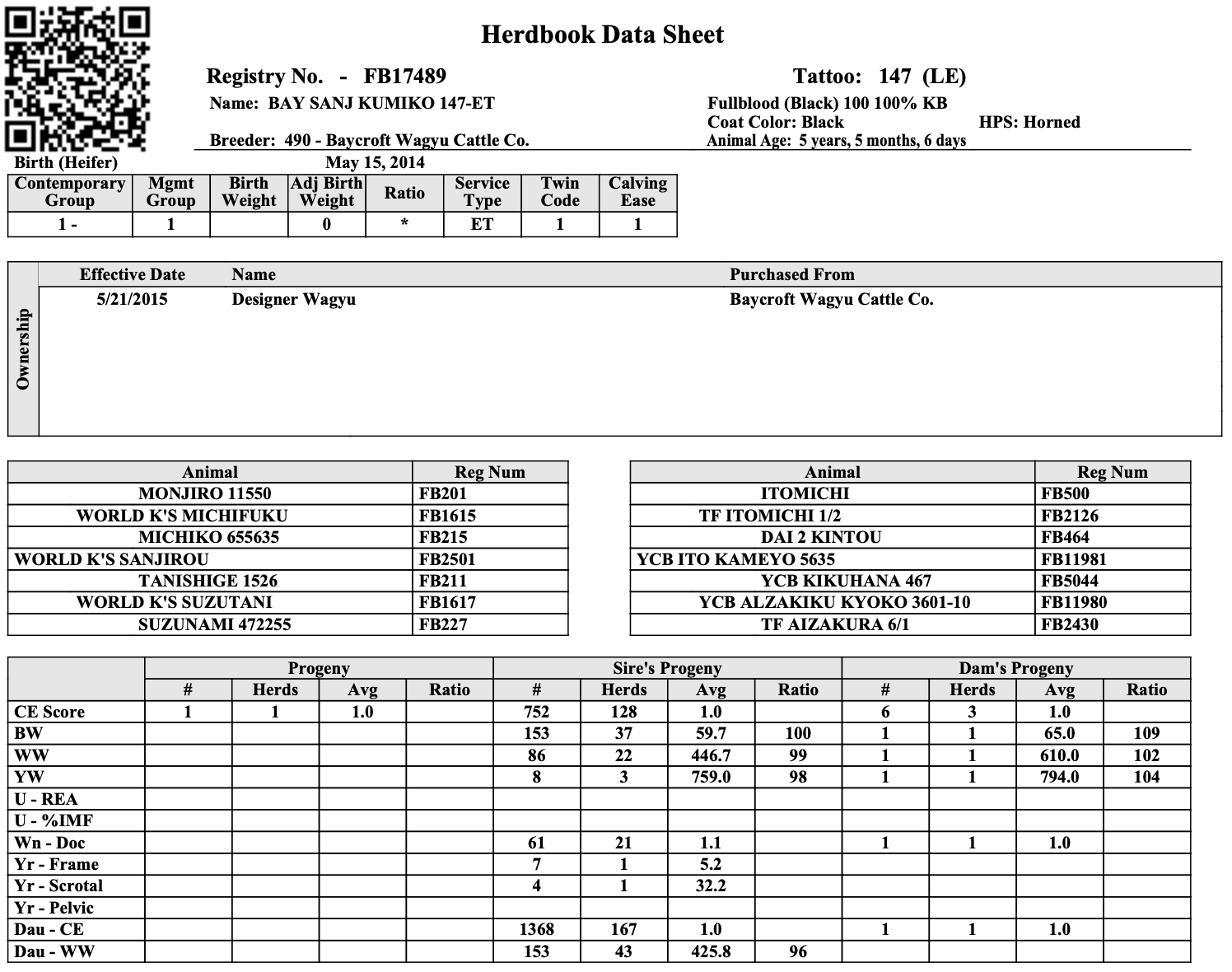 DONOR DATASHEET
SCD: VA | Tenderness: 7
Kumiko is the highest marbling female from the great Anio 6 cow family, and one of the highest type females in the breed. She has proven herself in the show ring, winning her class at World Beef Expo in 2014. She comes from a line of large framed cattle and is the tallest yearling to ever be raised at Designer Wagyu.
This cow family has produced highly scored bulls for increasing frame and milking ability. Kumiko's 6th dam, Anio 6, has produced many elite Wagyu animals with some of the best rumps in the breed, supporting their udders to provide excellent milking abilities. One of Anio 6's most famous sons, TF Ithoana 2, made great framed cattle with strong maternal abilities, great milking, and big, powerful mature cattle.
Itomichi can be found throughout her pedigree, as he is the sire of her 6th dam, and his son, Itomichi 1/2, is the sire of Kumiko's dam. Itomichi's genetics bring high type and great frames. Kumiko excels in each of these traits, as well as strong growth and milking abilities. She is proven to produce offspring with the same excellent growth and large frames.