IVF MICHIFUKU x Bay Sanj Kumiko 147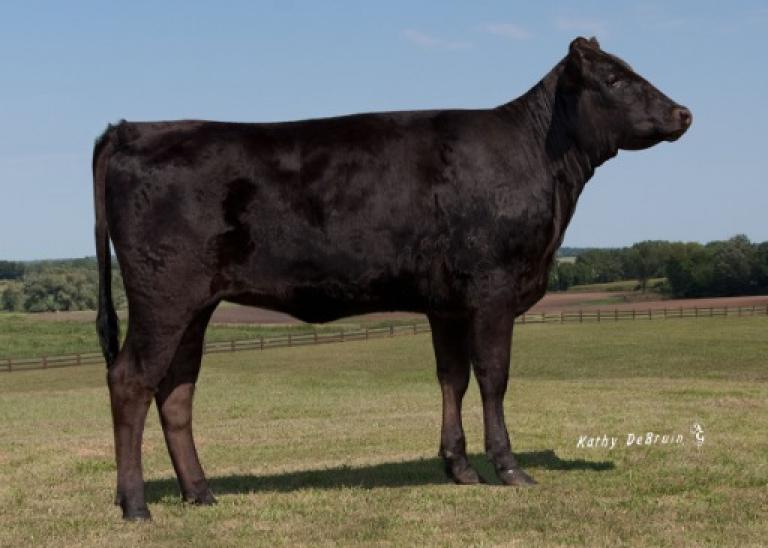 Located in: United States of America
Can be shipped to: Domestic (U.S.) Shipment Only
#1 grade IVF MICHIFUKU embryos from the highest marbling female out of the great Anio 6 cow family and one of the highest type females in the breed. Kumiko 147 won her class at the 2015 World Beef Expo and comes from a deep pedigree of both bulls and cows with great frame, milk production, and mothering ability.
---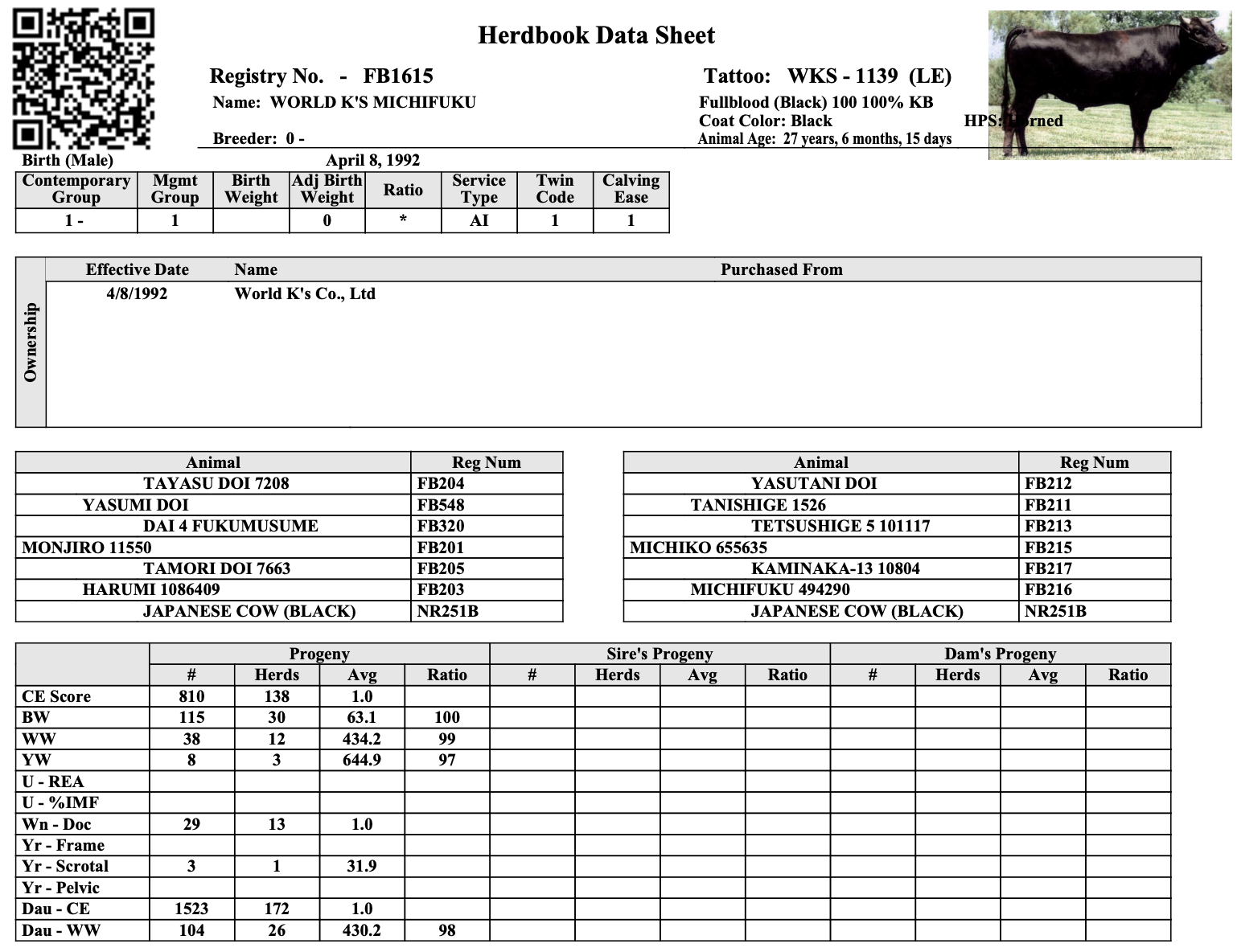 SIRE DATASHEET
Michifuku is thought to be the best carcass bull to ever leave Japan. Even with smaller framed offspring, his progeny's carcass characteristics are suberb. He was formerly the No. 1 marbeling bull in the U.S. Wagyu Sire Summary, and consistantly ranks No. 2 in ribeye area (REA) and No. 4 in backfat thickness (EPD). Michifuku's sire, Monjiro 11550, is linebred to Tajima J105, great-grandsire of Yasumi Doi J10328. Michifuku's dam, Michiko J655635, was sired by Tanishige 1526 and grandsired by Yasutanidoi J472. Yasumi Doi J10328 and Yasutanidoi J472 are considered to be two of the most famous of the Tajima / Tajiri line.
Yasumi Doi J10328 sired Yasutanidoi J472, as well as Dai 2 Yasutsuru 774, sire of Fukutsuru 068. Yasumi Doi J10328 also grandsired Yasufuku 930, sire of Yasufuku Jr. and grandsire of Takazakura. Yasumi Doi J10328 appears twice in Michifuku's pedigree. This lineage supports Michifuku's high standing.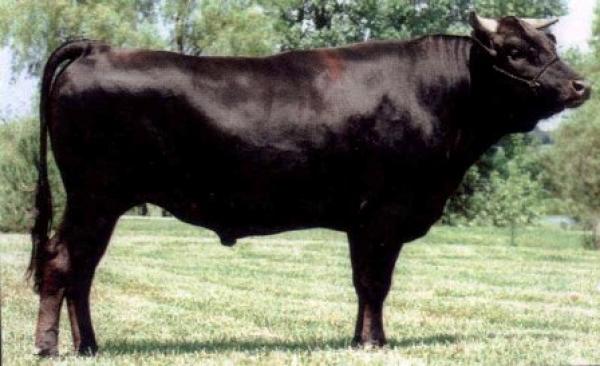 SIRE SNAPSHOT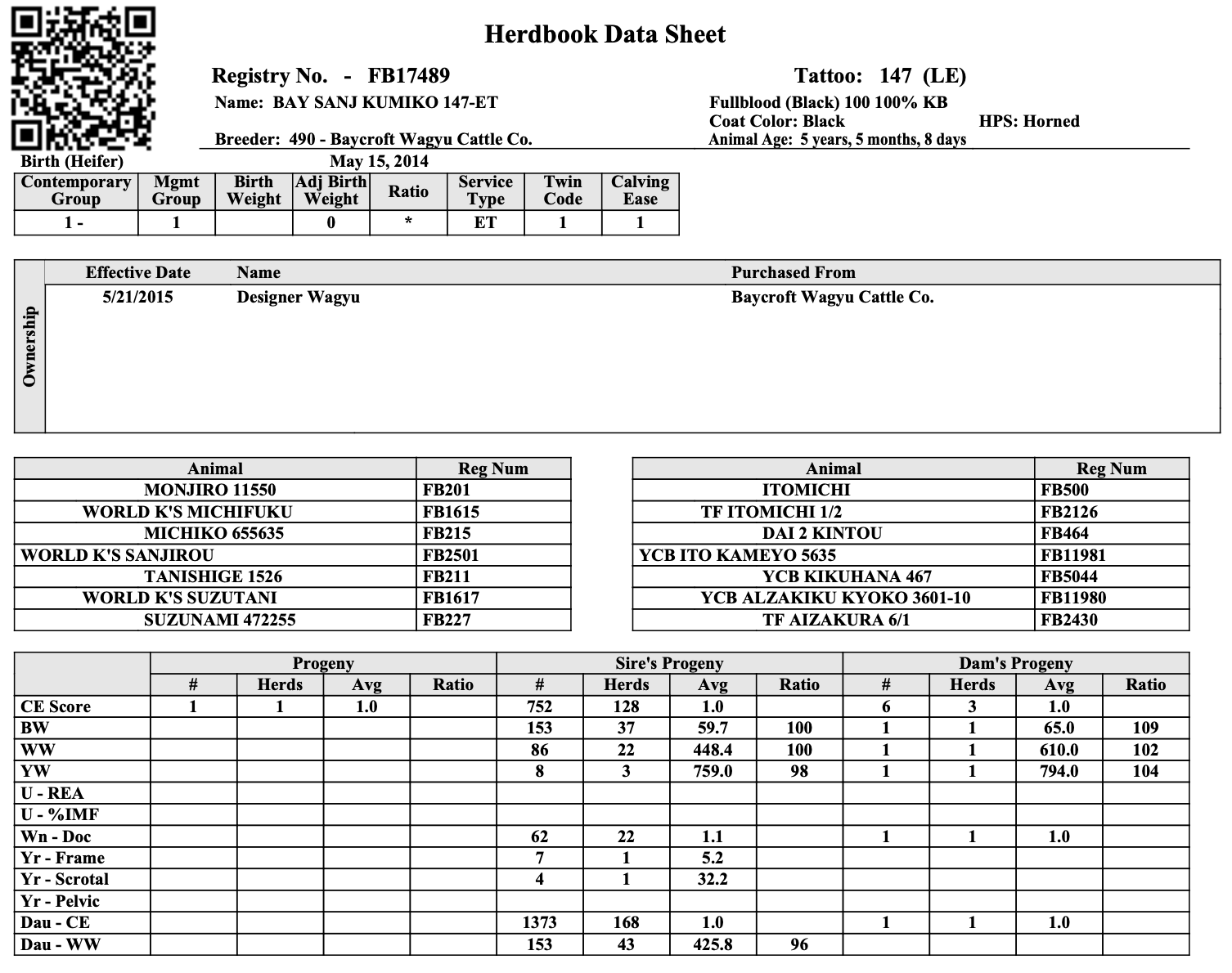 DONOR DATASHEET
SCD: VA | Tenderness: 7
Kumiko is the highest marbling female from the great Anio 6 cow family, and one of the highest type females in the breed. She has proven herself in the show ring, winning her class at World Beef Expo in 2014. She comes from a line of large framed cattle and is the tallest yearling to ever be raised at Designer Wagyu.
This cow family has produced highly scored bulls for increasing frame and milking ability. Kumiko's 6th dam, Anio 6, has produced many elite Wagyu animals with some of the best rumps in the breed, supporting their udders to provide excellent milking abilities. One of Anio 6's most famous sons, TF Ithoana 2, made great framed cattle with strong maternal abilities, great milking, and big, powerful mature cattle.
Itomichi can be found throughout her pedigree, as he is the sire of her 6th dam, and his son, Itomichi 1/2, is the sire of Kumiko's dam. Itomichi's genetics bring high type and great frames. Kumiko excels in each of these traits, as well as strong growth and milking abilities. She is proven to produce offspring with the same excellent growth and large frames.