Located in: United States of America
Can be shipped to: Domestic (U.S.) Shipment Only
PURCHASE THIS DONOR: One of the highest marbling females from the Anio 6 family and one of the highest type females in the breed. Kumiko has proven herself as an excellent show animal. She won her class at the World Beef Expo in 2015 and was Reserve Grand Champion Female at World Beef Expo in 2016 & 2017. Kumiko was the tallest yearling female to be raised by Designer Wagyu. Her offspring have followed in her footsteps, succeeding in both bull and heifer shows. Her embryos have been exported to Australia and people are showing interest around the globe. Combining high type and marbling power, Kumiko will increase the profitability index within your own breeding program.
Location: Wisconsin, USA
---
Donor info
Details
Fullblood Black Wagyu
Highest marbling female from the GREAT Anio 6 cow family
One of the highest TYPE females in the breed!
Has produced highly scored bulls used to increase frame and milking ability
2015 World Beef Expo Class Winner
---
Pedigree
WORLD K'S SANJIROU
YCB ITO KAMEYO 5635
TF ITOMICHI 1/2
YCB ALZAKIKU KYOKO 3601-10
YCB KIKUHANA 467
TF AIZAKURA 6/1
Next Dams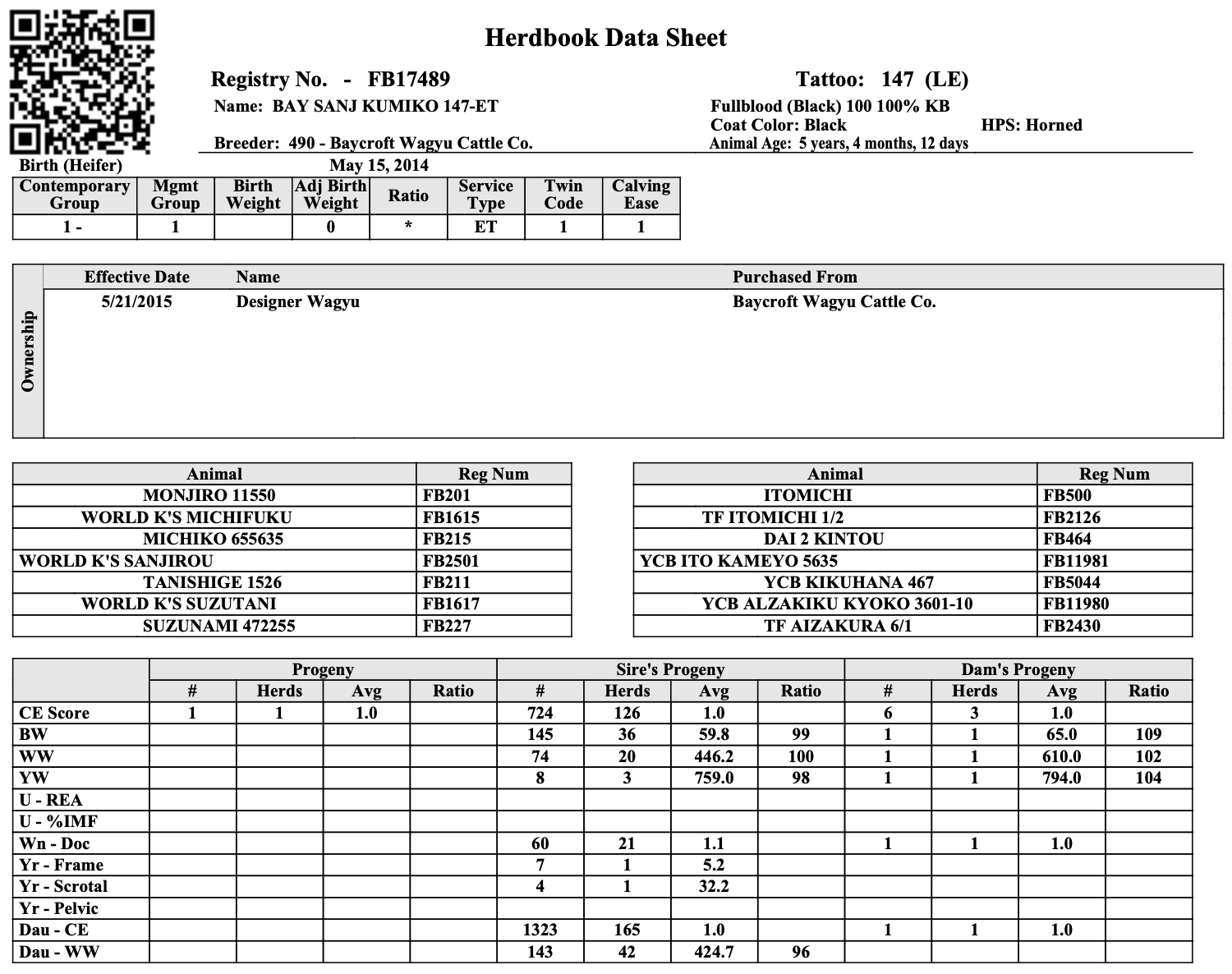 MORE ABOUT KUMIKO'S COW FAMILY
The maternal cow family she is from has produced highly scored bulls used to increase frame and milking ability. These genetics have been used on Tajima blooded animals to provide more milk and increase mothering abilities. Kumiko's 6th dam is the genetic powerhouse, Anio 6, who has produced some of the most elite Wagyu animals. Anio 6's offspring have some of the best rumps tthe breed has ever seen, supporting their udders to provide excellent milking abilities. One of her most famous sons is TF Itohana 2, who made great framed cattle along with strong maternal abilities, solid milking and big, powerful mature cattle.